Best Golf Bachelor Party Destinations
West Coast Bachelor Party Golf Destinations
1. Scottsdale, AZ
Scottsdale, Arizona is the go-to destination for any bachelor party centered around golf. It provides great weather, loads of courses, a fantastic nightlife, a great food scene, and for the single of men of the group... well it's got a lot for them too.
In Scottsdale there seems to be a golf course on just about every block. You'll find a variety of courses ranging from affordable to wowzer. So there's something for everyone. And after you're done roastin' dingers on the course, you'll have no trouble finding a great restaurant or bar to get kicked out of shortly thereafter.
Average Cost of Golf
$50-$250/round
Average Cost of Stay
$80-$150 per night per person
Best Places to Stay for Scottsdale Golf Bachelor Party
WanderJaunt | Sleeps 8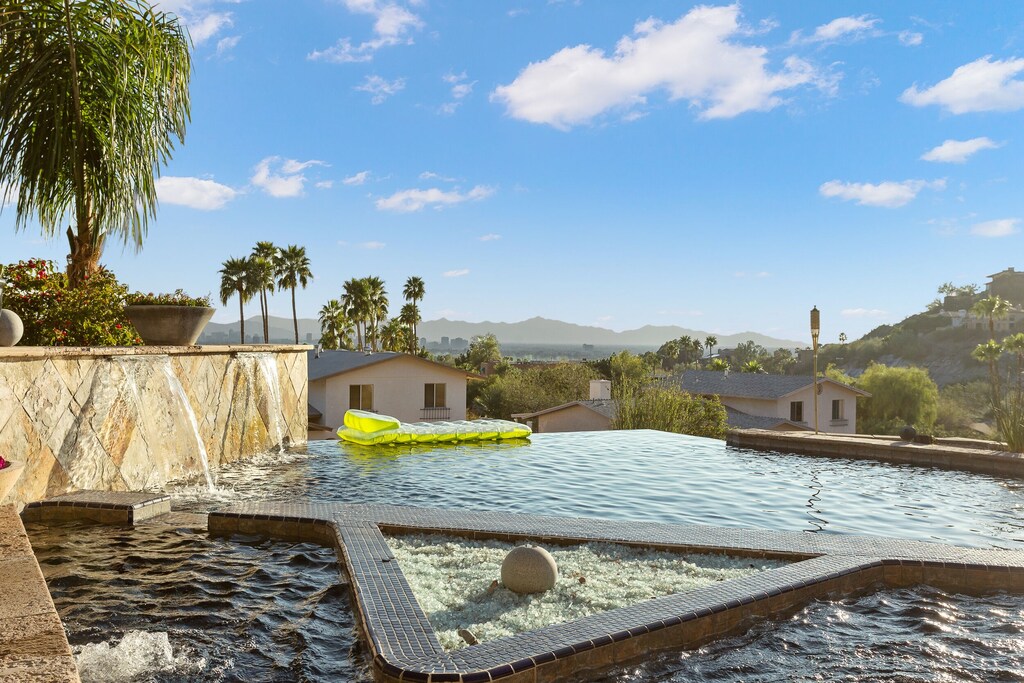 Mountainside Retreat with City Vistas | Sleeps 16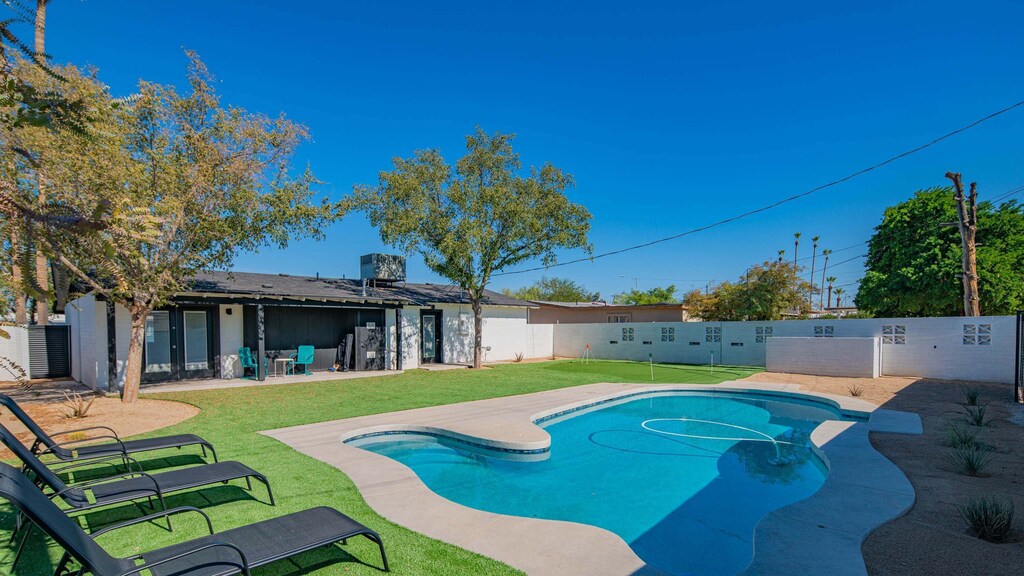 2. Bandon, OR
If you're group is really into golf, then Bandon Dunes is a great option. The reason why we say your group should really be into golf is because there isn't much to do in Bandon, OR outside of golf. It's a coastal town somewhat in the middle of nowhere.
But it just so happens that they have a handful of world renown golf courses. The golf is amazing, the cabins and onsite bars are super fun, and it's definitely a guy heavy place. The place is pretty much just one huge sausage fest..so you're future wife will love the choice.
Average Cost of Golf
$150-$250/round
Average Cost of Stay
$50-$250 per night per person
Best Places to Stay for Bandon Dunes Bachelor Party
3. Austin, TX
Austin is more so known for their great city than their golf. But Austin has a handful of really great golf courses. You may have to travel 20-30 min outside the city. But it's definitely worth it!
You'll get the best of night life, food, and golf. Austin really has it all and makes for a great time for all types of groups. Austin is also a great choice for groups with a handful of non-golfers. There is a lot the city offers outside of golf!
Average Cost of Golf
$50-$200/round
Average Cost of Stay
$80-$200 per night per person
Best Places to Stay for an Austin Golf Bachelor Party
East Coast Bachelor Party Golf Destinations
1. Mrytle Beach, SC
Mrytle Beach is golf heaven! There are literally hundreds of golf courses that feature lush terrain and sprawling fairways. It's not the biggest city. But it's got all the essentials for a great bachelor party.
You'll want to hit 'Broadway at the Beach' at night. Which is a district of bars, pubs, and clubs. In Mrytle Beach, you'll have tons of golf courses to choose from and a great night life scene.
Average Cost of Golf
$50-$400/round
Average Cost of Stay
$50-$200 per night per person
Best Places to Stay for an Mrytle Beach Golf Bachelor Party
2. Jacksonville, FL
Jacksonville baby!! Most people don't think of Jacksonville when they think of popular destinations. But hear us out...It's cheap, there's tons of golf, tons of gentlemens clubs, and plenty of dive bars. It also has one of the most famous courses in the world just 30 minutes away in TPC Sawgrass.
Your boys can stay in a sweet mansion for a very reasonable price. And you'll get great weather with great golf. Head to JX!
Average Cost of Golf
$50-$400/round
Average Cost of Stay
$50-$150 per night per person
Best Places to Stay for an Jacksonville Golf Bachelor Party
3. New Orleans, LA
New Orleans makes for a great golf bachelor party. The city and what it has to offer is obvious. Incredible night life, great food, and an overall rowdy atmosphere. But on the golf side, New Orleans has some great golf options.
TPC Louisiana is the premier golf spot, home of a PGA Tour stop. It also has many great courses such as Bayou Oaks or English Turn. we recommend splurging on one of these "fancy" courses. And then dialing it back a notch with some more budget friendly options. There are a variety of golf course options to choose from.
Average Cost of Golf
$40-$300/round
Average Cost of Stay
$50-$150 per night per person
Best Places to Stay for an New Orleans Golf Bachelor Party
4. White Sulfer Springs, WV
White Sulfer Springs is a hidden gem. It's not a wildly poppin' place. More of an outdoorsmen spot. So it's not for every group. But if you're group is looking for a spot that has great golf, fishing, & outdoor activities, then this is an amazing spot.
The main go-to in White Sulfer Springs is the Greenbrier resort. They've got everything. Five world-class golf courses, fishing, ATV'ing, a gun club, a casino, and more.
Average Cost of Golf
$100-$400/round
Average Cost of Stay
$50-$150 per night per person
Best Places to Stay for a Greenbrier Golf Bachelor Party
Best Golf Bachelor Party Games
Need some on-course golf game ideas for your bachelor party? Here is a list of our favorite golf drinking and money games:
Best Golf Money Games
1. Wolf
Wolf is a great game for 4-somes of all skill levels. It's essentially a single hole game of best ball that starts over on every hole. Here are the basics. You'll flip a tee, or randomly choose, to determine the first "wolf". When you are "wolf", you tee off first and have the power to choose your teammate for the hole. The wolf will watch everyone tee off. As each person tee's off, the wolf will have to decide whether or not they want to partner up with that player based off their tee shot. If they choose not to, then they cannot go back and choose that player once the next player has tee'd off.
For example, if player 2 hits one down the middle and the wolf does not declare that player as his partner. Then player 3 knocks it out of bounds. The wolf, cannot go back and choose player 2 now that the 3rd player has tee'd off. His only options will be to take player 4, or to go solo. Going solo means that you will play the others in the group 1 vs 3.
After teams are decided for the hole, you'll play best ball. The losing team will owe $1 (or the amount you choose) to each player of the other team. If you play solo and win, you'll receive $2 from each player on the team of 3. But lose, and you'll owe 1 more person.
Tie's will carry over to the next hole. And each hole a new wolf will be chosen based on a rotating order that is the same throughout the entire round.
2. Capture The Flag
Capture the Flag is a fun group game that is played individually. The rules are pretty simple. You'll determine the total pot/purse of the round which will be divided up equally between the front and back 9 winner.
Then, you'll play to win the hole outright. Winning the hole outright means that you had the best score with no ties. So if you made 3 and no one else made better than 4, you've "captured the flag".
The goal is to have the flag at the end of the 9th and 18th hole. For example, if a player captures the flag on hole 7, and no one else is able to win outright on 8, or 9. That player wins half the pot.
This is a great game because you will always be in it at the end no matter how you're playing. You can play 8 terrible holes, but play one good hole and take the pot!
3. Lefty Righty
Lefty Righty is a super simple game. Teams of 2 will be decided by the direction of everyone's tee shots. The 2 shot furthest left will be on a team against the 2 furthest shots to the right.
Then you'll play best ball with your partner into the hole. You can play by points or simply a set amount per hole. To play by points, each of the 2 winners per hole get a point. The single person with the most points at the end of the round, wins the pot your group sets at the beginning of the round.
4. Dots
Dots is a game that can be as simple or complex as you choose. Here's how it works. Your group will pre-determine what gets a point and what subtracts a point. Positive points can be literally anything. Birdies, Green-in-regulations, sand saves, getting the cart girls number, chugging a beer...anything.
Same goes for negative points. Bogeys, hitting it into the bunker, failing to get past the ladies tees, failing to get the cart girls number, etc.
You can also assign more point values to certain events. Like we said, this game can be as complex or simple as you want! The person with the most points at the end of the round wins!
Best Golf Drinking Games
Finding ways on the golf course to drink shouldn't be challenging! But if you need some help with some drinking game ideas, here are some of the best games you can play:
1. Drinking Dots
The drinking version of Dots is probably more fun than the normal version. All you do is replace the "dots" with drinks. And there are no subtractions. Once again, your group will pre-determine what qualifies as a drink. Anything from a missed fairway, water ball, forgetting to put the cart in park, etc. You can choose as many events as you want. And anytime a player does one, they drink.
2. Pussy Ball
This game is simple but very fun. Here's how it works. The shortest hitter off the tee has to take a drink and is called a pussy. But...if the pussy hits the closet-to-the pin on their approach, the others in the group have to take a 5 second chugg. On par 5's you'll measure the closest to the hole after 3 shots.
To make things more interesting, the pussy can wager a shot gun. If wagered, a closest-to-pin will result in the rest of the group having to shot gun a beer rather than the 5-second chugg. If the wager fails, the pussy has to shot gun.
3. Capture the Beer
This is the drinking version of Capture The Flag. The same rules apply. To "capture the beer", a player needs to win the hole outright against the rest of the group. When this happens, the player that wins the hole gets to sit back and watch the rest of the group shot gun a beer (or take a shot). A player will hold onto the "beer" until another player wins a hole outright. The player who has the "beer" after the 9th hole can give out 9 drinks. While the winner after 18 holes can give out 18.
4. Even or Odd, Birdies and Doubles
Even or Odd is a game that has nothing to do with golf skill. Players will simply choose even or odd and must finish a beer for each even or odd hole they play. Birdies and Doubles adds a fun twist. Let's say the group chooses Odd. This means that for every Odd hole, each player will have to finish a beer before the next odd hole. However, if they make a birdie on an even hole, then that player will not have to finish a beer on the next odd hole. Conversely, if a player makes double or worse on an even hole, they will have to finish two beers instead of one on the next odd hole. Groups can adjust the score requirement to pars and triples if need be!
Best Golf Bachelor Party Gifts
If you're planning a golf bachelor party, you may be looking for the top party gifts and gag gifts for the event. So we've scoured the web and found the must-haves for every golf bachelor trip. From beer holders to funny ball markers, here are the top gifts for a golf trip full of drinking and mishaps.
1. Pins and Aces Beer Sleeve
This beer sleeve is a must-have for any golf trip. It helps you easily, and descretely, hold up to 7 beers in your bag. It fits in most golf bag side pockets and can even be placed in the club holder section of many bags.
2. Fore! Golf Drinking Card Game
This is a fun, simple card game that you can play with your group. Simply pick a card each hole which will serve as the drinking rule for the hole. The rules will be anything from 3-putts drink to the player closest to a tree off the tee drinks.
3. Novelty Tee's
All players need these novelty tees for the bachelor party!
4. Birdie Juice Flask
Everyone must take a swig from the birdie flask when any player in the group makes birdie!
5. Da Vinci Golf Ball Markers
These novelty ball markers make a great gift for any bachelor party group.
6. Alcohol Squirt Gun
Each 4-some should have one of these. A fun way to drink beer, hard liquor, seltzer, or even wine.