Mens Hammered Wedding Bands You'll Love
Wanting to get hammered? Us too! Hammered bands are a nice step away from the traditional band. They provide a unique, manly look that will immediately step up anyone's coolness level. They're rough. They're tough. And we wouldn't want it any other way. So we've searched the market and come up with what we think are the top hammered men's wedding bands around. We hope we help you find the one!
Top Picks Overall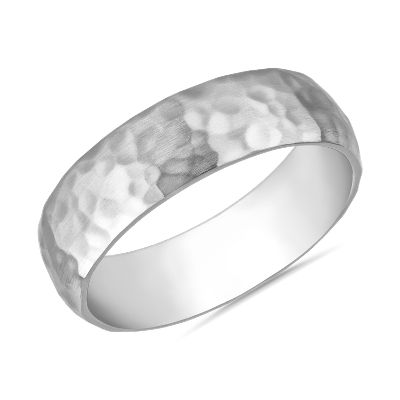 Organic White Gold Ring
Metal: White Gold
Width: 2-6mm
Price: $1,190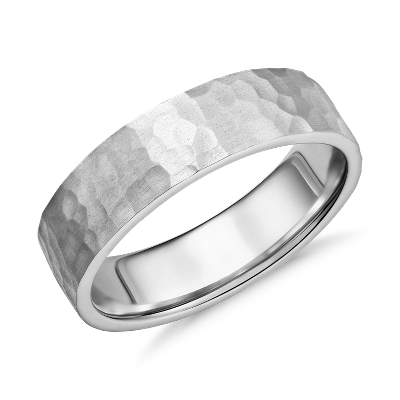 Hammered Flat Comfort Fit Platinum Band
Metal: Platinum
Width: 6mm
Price: $1,490
THE TYLER
Metal: Black Zirconium
Width: 8mm
Price: $375
The Top Hammered Wedding Bands
Where to Find Hammered Wedding Bands for Men
If you're looking for a hammered mens wedding ring, these are the best places to check out:
For us, we found the best selection of hammered men's wedding rings at bluenile.com. They offer many classic-looking hammered bands in a variety of quality metals like gold, platinum, and tungsten. Although not as extensive of a collection, manlybands.com offers a handful of great-looking men's bands with hammered finishes.
larsonjewelers.com has the best selection of budget-friendly hammered rings. They offer rings with cheaper materials like titanium and tungsten. So if you're on a budget check them out!
Lastly, if you are looking for a unique hammered wedding band, then jewelrybyjohan.com is your best bet! They offer a great selection of unique rings in some unique materials like meteorite and zirconium. You can find two-toned bands, three-tone bands, and overall a higher level of detail than most ring makers.
How Are Hammered Wedding Bands Made?
Wondering how hammered wedding rings are made? You might be surprised (or unsurprised) to know that hammered wedding bands are quite literally made by hammering the ring. Shocking I know...Ring makers that hand-make their rings will slowly hammer the metal all around the ring until they get the desired finish. Check out this video to see it in action!
For more mass-produced rings, the process is similar. But rather than doing it by hand, machines will perform the action.
Therefore choosing a wedding band with a hammered finish is a great way to ensure a unique ring. Like a fingerprint, no two hammered bands are perfectly the same!