Find The Perfect Mens Ruby Wedding Ring
Ruby ruby ruby ruby rockin' everywhere! Looking for a wedding band with ruby? You've come to the right place. We've scoured far and wide for the best ruby mens wedding bands so that we can offer up only the best in this ring guide. Whether you are looking for a crushed ruby band or something with a ruby solitaire, we've got you covered!
Top Picks Overall
Black Zirconium And Ruby Mens Ring
Metal: Black Zirconium
Width: 6mm
Price: $1,056
RUBY WEDDING BAND WITH METEORITE
Metal: Meteorite
Width: 7mm
Price: $1,585
Affordable Mens Wedding Band with Ruby
Metal: Tungsten
Width: 8mm
Price: $319
Mens Ruby Wedding Bands
Best List
Unique Ruby Mens Band
Metal: White Gold
Width: 7.5mm
Price: $1,215
This ring is featured first for a reason! For someone wanting a band with rubies but doesn't want the rubies to overwhelm the ring, this is perfect. It's modern, unique, but not too flashy. This ring will look good on just about anyone!
Buy on larsonjewelers.com
Black Ring with Ruby
Metal: Black Ceramic
Width: 8mm
Price: $229
We love this band for it's black and red checkered carbon fiber inlay. It really makes for a modern looking ring that will look good on all hands. It's one of the most afforable rings on this list as well!
Mens Ruby Paved Wedding Band
Metal: White Gold
Width: 7mm
Price: $1,607
If you're looking for a modern paved ruby ring then this one is a stunner! The row of red rubies make this band really pop.
Buy on larsonjewelers.com
Mens Tungsten Wedding Band with Rubies
Metal: Tungsten
Width: 8mm
Price: $389
This band features 3 small rubies centered in the band. A great manlier alternative to a single solitaire. And the use of tungsten keeps the price a bit lower with this ring.
Mens Ruby Gemstone Ring
Metal: Multiple Options
Width: 4, 6, 8, or 10mm
Price: $119+
This band has an inlay that's made using genuine Burmese rubies. The rubies are crushed which makes for a unique band. It can be customized in many different widths and metals as well!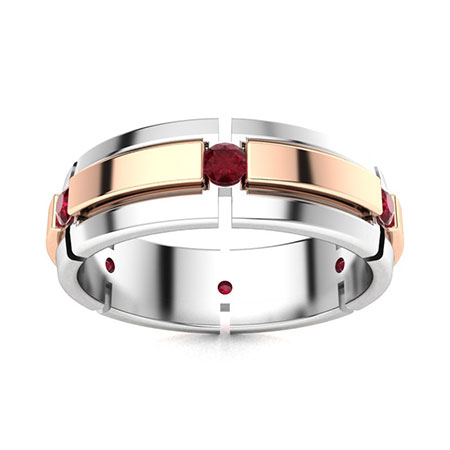 Buy on diamondere.com
Modern Mens Ruby Wedding Band
Metal: Gold
Width: 6, 7mm
Price: $1,363
We love this ruby ring for it's modern look. The raised Yellow Gold Inlay creates a unique look that is both modern and fresh.
Gold Mens Ring with Ruby Center
Metal: Gold
Width: 6mm
Price: $1,199.00
The setting of the ruby in this ring is really cool. It's slightly beveled edge makes for a modern cut.
Black Tungsten Band with Ruby Center
Metal: Black Tungsten
Width: 8mm
Price: $159
This ring is made with Black Tungsten and features a princess cut ruby in the center. The brushed black tungsten and solitaire ruby make a great combo!
Crushed Ruby Ring
Metal: Oak and Bronze
Width: 6mm
Price: $98
This handmade gray oak wooden ring with bloodstone and ruby and bronze metal inlay provides an alternative look that we love.
Channel Set Ruby Mens Band
Metal: White Gold
Width: 8.5mm
Price: $2,340
This is another great looking wedding ring from Azeera. This ring features two rows or rubies that go half way around the ring. For someone wanting a modern looking band with lots of rubies, then this is the one!
Mens Vintage Wedding Band with Ruby Centerstone
Metal: Gold and Tungsten
Width: 8mm
Price: $270
The hammered gold in this band creates a very vintage look. Like something built for a king. Are you a king?
Mens Black Wedding Ring with Ruby Centerstone
Metal: Tungsten
Width: 6 or 8mm
Price: $136
This band has two thin red stripes outside a ruby centerstone. It comes in either 6mm or 8mm made with Black Tungsten.
Where to Find Ruby Wedding Bands for Men
These are the best places to find a ruby wedding band:
Benefits of Wearing Ruby
Like most gemstones, Ruby has a long history of believed astrological benefits. The benefits of wearing a ruby ring include:
Improves Mental Strength and Alertness

Ruby represents the Manipura or Navel Chakra in your body, according to Vedic astrology. It activates this chakra, which helps to clear your thoughts of self-doubt and depression. Wearing this stone can give you a boost of self-assurance and enthusiasm for life.

Promotes Success

Throughout history, ruby has been connected with monarchy. Rubies are chosen by ruby wearers for their regal position, elegance, and authority. According to astrologers, ruby is thought to boost financial status, and lead to affluent, luxurious lifestyles.

Promotes Maritial Harmony

Ruby is thought to promote kindness and compassion. As such, wearing a ruby stone might help couples rekindle their passion and harmony. A ruby is utilized as a cure to make positive changes when couples confront problems and differences. It is thought to create mutual understanding in relationships.

Wards off Negative Energy

Much of the astrological benefits surrounding Ruby relate to positive energy and harmony. Which is why it is also believed to ward off negative energy and even spirits. Ancient cultures often used Ruby to guard against evil spirits and prevent bad dreams.

Health Benefits

Every gemstone is believed to bring upon certain healing properties. Ruby is no exception. It's synonomous with the power of the sun. And therefore is thought to improve the sun's position in the wearers horoscope. Heart problems associated with having a weak position of the sun in their birth charts can be improved with Ruby. People suffering from vitamin D deficiency can also benefit from wearing ruby stone.
What does the ruby represent?
Ruby is associated with wealth and prosperity. It is synonomys with positive energy and creating harmony in relationships. Rubies have also often represented passion and love due to their deep red color.
Ruby can represent healing properties, increased alertness, and good fortune. In some cultures, rubies are thought to bring fortune and wealth to the wearer. Like with many gemstones, Ruby has more than a handful of believed healing properties. Regardless of the validity of these beliefs, the beauty of ruby cannot be denied. It is one of the most striking gemstones on earth. This combined with the many positive benefits associated with Ruby, is what has made Ruby such a popular choice in wedding rings.